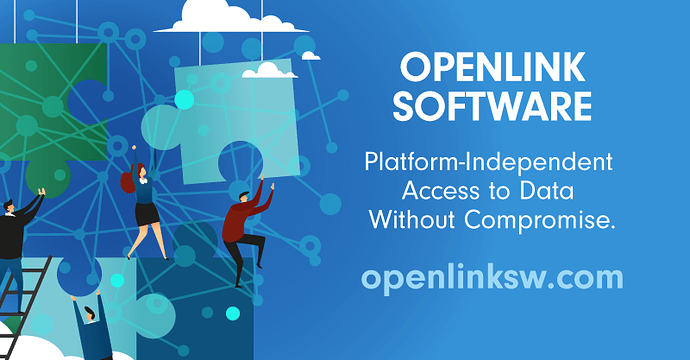 Best wishes for 2021 from all at OpenLink Software!
Here's a recap of some highlights from our weekly activities in 2020.
A full listing of our weekly updates from 2020 can be found here.
January
February
March
Bringing the FORCE of the LOD Cloud Knowledge Graph to the COVID-19 pandemic — This post is about leveraging the combined power of Open Data and Linked Data during these challenging times. The effect is a reduction in the amount of Data Wrangling overhead, aiding subject-matter experts, researchers, government departments, medical professionals, and many others who are on the front lines of this global pandemic.
April
May
June
What is an OpenLink Multi-Tier ODBC to JDBC bridge Driver and why is it important?
For starters it is the only driver to include a rules engines for enhanced security alongside high-performance. Here are some important guides for understanding and using our powerful Bridge Drivers/Connectors.
July
August
Data inconsistency is a major source of Data Quality challenges that provide headaches to both application developers and end-users in a variety of way. Fundamentally, data represented as Tables or Graphs are susceptible to these problems. Read our community forum note and join the discussion about this important topic.

Our CEO (@kidehen) comments frequently about Explainable AI and the role of an Ontology with regards to informing Reasoning & Inference. Here is a Twitter Thread that delves into this important topic using Virtuoso and a live Knowledge Graph (comprising Linked Data).
September
What is a Virtuoso SPARQL Endpoint, and why is it important?

A Virtuoso SPARQL endpoint is a major feature of every Virtuoso instance that delivers on the promise of increased expressivity and data access dexterity required by any Knowledge Graph (Enterprise or Public) exploitation endeavor. Fundamentally, it is an indispensable tool for modern data access, management, and integration.

Here's a post that provides further insight into the ultra-powerful Virtuoso SPARQL Query Engine that's also accessible to existing ODBC, JDBC, ADO.NET, or OLE-DB compliant apps and services.

The Magic of Being You! is that "You" know yourself better than anyone else ever would. Unfortunately, Web application and service developers continue to grapple with this fundamental reality en route to making us all much more vulnerable than imaginable. This post demonstrates that we can actually take control of our own identity .

Maintenance Release of Virtuoso 8.3.3319 (Enterprise Edition)

This Maintenance Release brings a new feature (SHACL support), OpenID Connect and OAuth protocol enhancements, bug fixes, and a few interface tweaks to aid better understanding of existing functionality. See the maintenance release notes for additional information.

Here's a Live SHACL demo using data from http://datashapes.org.
October
Knowledge Graph Exploitation, for Publishers -

Why? Every publisher oversees a database that ultimately drives their business. Generally, across all media, these databases are of high quality due to editorial best-practices acquired over many years.

New Cloud Editions of Virtuoso 8.3.3319 are now available from both the Microsoft Azure and Amazon AWS Clouds. In either case, you have a following benefits:

Choice of Pay-As-You-Go (PAGO) and Bring-Your-Own-License (BYOL) instance options;
PAGO instances offering unlimited connections (users) and CPU Affinity pegged to your Instance Type Choice
A modern multi-model DBMS and Data Virtualization Platform that supports declarative operations (using SQL and/or SPARQL) on data modeled as Tables or Entity Relationship Graphs.

Here are detailed usage guides for both the Pay-As-You-Go (PAGO) and Bring-Your-Own-License (BYOL) Editions of Virtuoso for Azure - Microsoft's Cloud Computing Platform:

Azure OpenLink Virtuoso Ubuntu PAGO VM – available for a FREE 30 Day Evaluation
November
December
The Virtuoso Sponger (or simply, "the Sponger") module remains one of the most powerful aspects of our Virtuoso platform, with regards to Knowledge Graph generation and management.

Here is a presentation that demonstrates how the Sponger can be used to progressively create and enhance Knowledge Graphs, with live demo links.

A quick demonstration of combining SPARQL, SQL, and Cypher by —

Using a Federated SPARQL (SPARQL-FED) query from OpenLink Virtuoso to mesh data about a specific entity that exists in the DBpedia and Wikidata knowledge graphs

Using a SPARQL-within-SQL (SPASQL) query to return tabular relations in Neo4j, via JDBC

Forward Chaining RDF triples to a property graph using Cypher, and visualizing the results