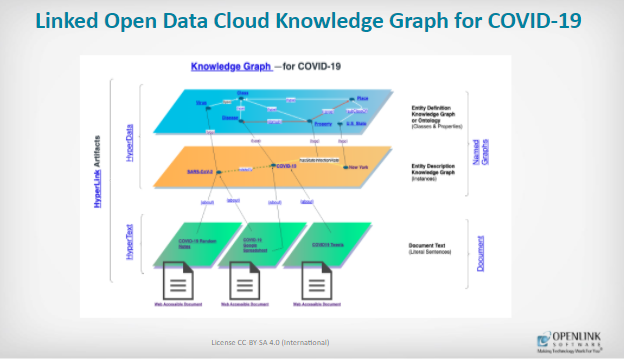 Revisiting this Presentation about Unleashing the FORCE of the LOD Cloud Knowledge Graph in the the fight against COVID-19, by our CEO Kingsley Idehen.
Related:
Using Virtuoso ODBC and JDBC Drivers (Connectors) to interact with the LOD Cloud Knowledge Graph using SQL and/or SPARQL
This post demonstrate's how your existing RDBMS applications and services can take full advantage of the power unleashed by Knowledge Graphs such as the massive LOD Cloud and/or your own internal equivalents without "ripping and replacing" anything. All it takes is installation of the relevant Virtuoso client (e.g., ODBC, JDBC, ADO.NET, or OLE DB) on your notebook, desktop, or application server.
SeeAlso:
Related Links
Exploit the powerful Enterprise Knowledge Graph technology provided by our Virtuoso Platform, by taking advantage of our current collection of Special Offers
Detailed usage guides for :
Universal Data Access Drivers — Entry-level offers on high-performance data access drivers for ODBC, JDBC, ADO.NET, and OLE DB
Download Free Trials of our Secure and High-Performance ODBC & JDBC Data Access Drivers (or Connectors) for Oracle, SQL Server, DB2, MySQL, PostgreSQL, Sybase, Informix, Ingres, and 3rd Party ODBC or JDBC Data Sources
Posts from Prior Weeks