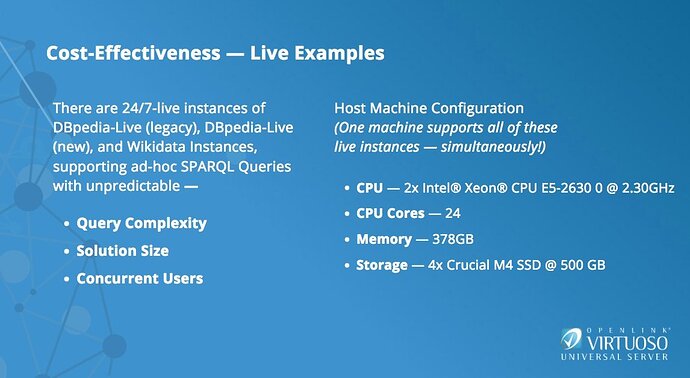 What do DBpedia Live (Legacy), New DBpedia Live, and Wikidata Demo have in common? Virtuoso instances running in Virtual Machines within a common Host Computer!
The unique performance and scalability benefits of Virtuoso have been well known for quite some time. Less well known are the hardware configurations used to deliver powerful ad-hoc query access to the public via popular services such as DBpedia Snapshot, DBpedia Live (legacy), DBpedia Live (new), the Wikidata variant that we host, URIBurner, and many others.
We've assembled a spreadsheet of instance details revealing hardware configurations for several public Virtuoso instances that sheds deeper light on this "best kept secret."
The key point is that OpenLink Virtuoso isn't simply fast, scalable, and secure — it is also surprisingly cost-effective!
Related
About Virtuoso
About OpenLink Knowledge Graph Productivity Tools
About OpenLink Data Access Drivers
Prior Posts Archive