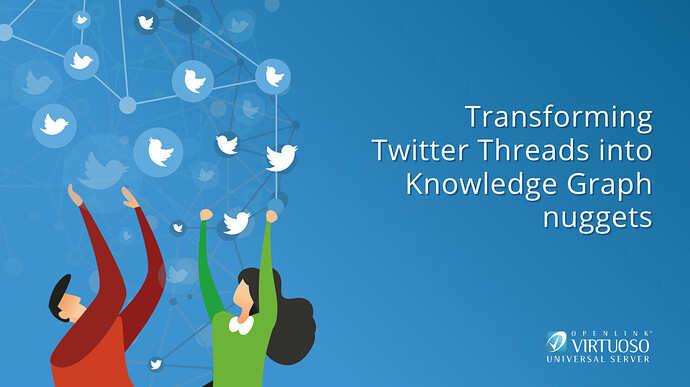 OpenLink has worked with the Twitter API since it became available. Among other things, we've created:
An Ontology/Vocabulary comprising terms for describing Tweets

A Virtuoso Sponger Cartridge (analogous to a Connector or Driver) for generating Linked Data "on the fly" from Tweets and Threads
Here are some live examples:
Related
OpenLink Tweet Unroller — Codenamed "Outarde", this powerful productivity tool leverages the power of RDF deployed using Linked Data principles. Outarde adds new dimensions to the creation, publication, access, and recall of Knowledge Graphs. For instance, it simplifies the transformation of Twitter Threads into Knowledge Graph nuggets for future reuse and recall using Text Search or declarative query languages such as SQL or SPARQL.
SeeAlso
About Virtuoso
Exploit the powerful Enterprise Knowledge Graph technology provided by our Virtuoso Platform, by taking advantage of our current collection of Special Offers
OpenLink Virtuoso Pay-As-You-Go (PAGO) from the Microsoft Azure Cloud

Detailed usage guides for Azure
About OpenLink Knowledge Graph Productivity Tools
About OpenLink Data Access Drivers
Prior Posts Archive