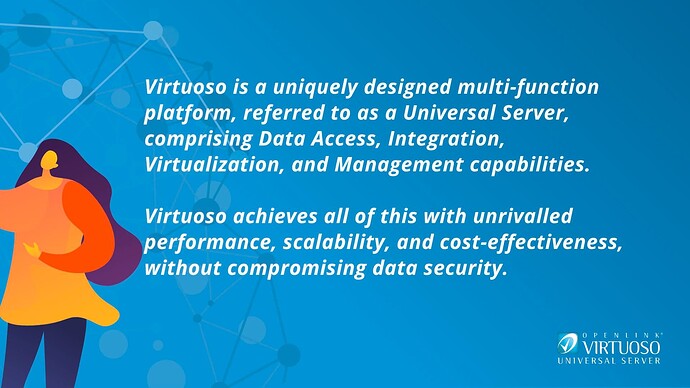 Did you miss any of our latest Product Release announcements?
To help you stay updated, here's a roundup of all our recently announced releases.
This powerful tool continues to unveil new HyperData frontiers beyond HyperText using existing browsers (Chrome, Safari, Firefox, etc.).
For additional release information see the OSDS 2.21.6 Release Notes.
Availability
Virtuoso Open Source 7.2.8 Release
The latest release of the Open Source edition of our Virtuoso platform is now live!
Key New Features
Native GraphQL support
More flexible AnyTimeQuery functionality for ad-hoc querying that scales to the Web
YouID — The Magic of Being You!
YouID 1.5.12 adds support for Bitcoin and Ethereum blockchains as profile data sources for verifiable credentials generated by this iOS app and/or Browser Extension.
Key Features
100 Billion+ Triples per DBMS instance
Native GraphQL support for Knowledge Graph access
Encryption At Rest (EAR)
Virtuoso release for Ubuntu Linux live on the Azure marketplace
Virtuoso and DBpedia bundle release for Ubuntu Linux is live on the AWS cloud marketplace
About Virtuoso
Exploit the powerful Enterprise Knowledge Graph technology provided by our Virtuoso Platform, by taking advantage of our current collection of Special Offers
OpenLink Virtuoso Pay-As-You-Go (PAGO) from the Microsoft Azure Cloud

Detailed usage guides for Azure
About OpenLink Knowledge Graph Productivity Tools
About OpenLink Data Access Drivers
Prior Posts Archive