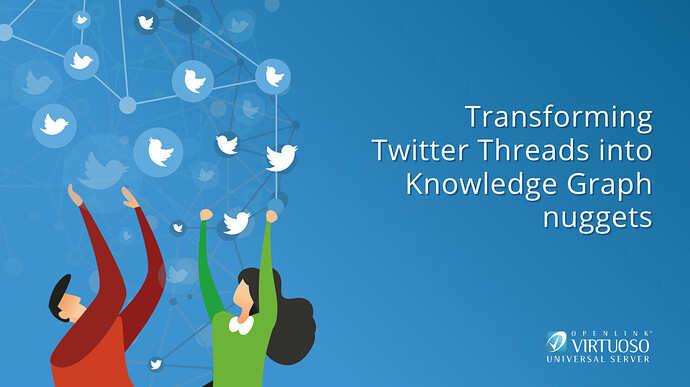 OpenLink Tweet Unroller (codenamed "Outarde") — An example of a powerful productivity tool that leverages the power of RDF deployed using Linked Data principles.
Twitter is increasingly visible as a zeitgeist engine, a platform dimension driven by the rise of Tweet Threads.
Outarde, a "Deceptively Simple" tool we recently developed, simplifies the transformation of Twitter Threads into Knowledge Graph nuggets for future reuse and recall.
Usage boils down to simply copying and pasting the URL of the last reply-tweet in a thread of interest into Outarde, and then sitting back and observing the transformation of the thread into a Knowledge Graph nugget.
That's it — No programming required!
Here are some Live demos, comprising various Twitter Thread transformations
About Virtuoso
Exploit the powerful Enterprise Knowledge Graph technology provided by our Virtuoso Platform, by taking advantage of our current collection of Special Offers
OpenLink Virtuoso Pay-As-You-Go (PAGO) from the Microsoft Azure Cloud

Detailed usage guides for Azure
About OpenLink Knowledge Graph Productivity Tools
About OpenLink Data Access Drivers
Prior Posts Archive