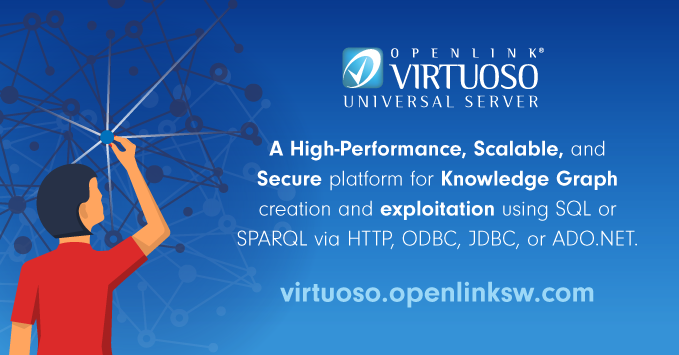 Getting into the Business of Linked Data (BoLD)
Historically, understanding, deployment, and general exploitation of Linked Data has generally suffered from a lack of clarity associated with the feasibility of business models and the mechanics of execution.
Virtuoso's ability to facilitate business model articulation and execution, declaratively, is the focal point of this week's newsletter.
Kingsley Idehen, our CEO, recently posted a Twitter Thread about the essence of a Linked-Data–oriented business model that he refers to as the Business of Linked Data (BoLD). In this thread, he explains and demonstrates the basics of the BoLD business model using our URIBurner Service.
In addition, he uses a SPARQL Query to progressively update the collective Knowledge Graph hosted by our SPARQL- and SQL-accessible URIBurner Service.
Related
OpenLink Structured Data Sniffer (OSDS) Reveals…
About Virtuoso
About OpenLink Knowledge Graph Productivity Tools
About OpenLink Data Access Drivers
Prior Posts Archive