We are pleased to announce immediate availability of OpenLink Structured Data Sniffer (OSDS) 2.22.10.
Release Notes — including updates from 2.21.13 to 2.22.10
Added — CHAT-GPT integration
Fixed — support for CSV data that lacks column headers
CHAT-GPT Integration
This functionality enables you to do the following:
Interact using prompts and/or questions
Export structured data to your local Filesystem, SPARQL-compliant DBMS or Store, Personal Data Space, or Solid Pod
How does it work?
Trigger the question and/or prompt interface by clicking on the new CHAT-GPT action button
Type or paste in your question and/or prompt text
When structured data is returned, you can click on the drop-down menu at the upper-right of the response code-block, to visualize it in your chosen structured data format — CSV, JSON, JSON-LD, Turtle, XML, RSS, or Atom
Click on the "doggie" invocation button — — and then select your preferred data export destination from the drop-down menu comprising "View Raw Data", "Download Raw Data", "Upload to Data Space or Pod", or "Upload to SPARQL Endpoint" options
Here's a sequence of screenshots depicting the functionality outlined above.
RDF rendition of FAQ text from OpenAI's FAQ Page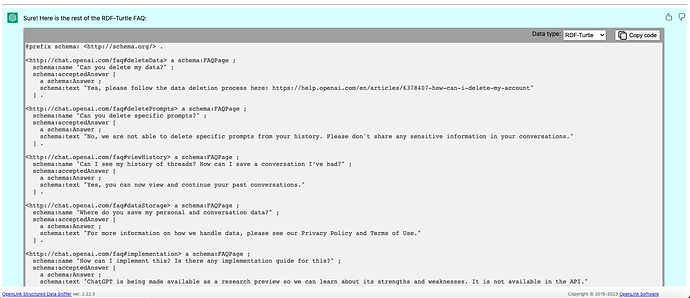 Use of drop-down within the generated code-block to select RDF-Turtle as the output format for visualization; and actual visualization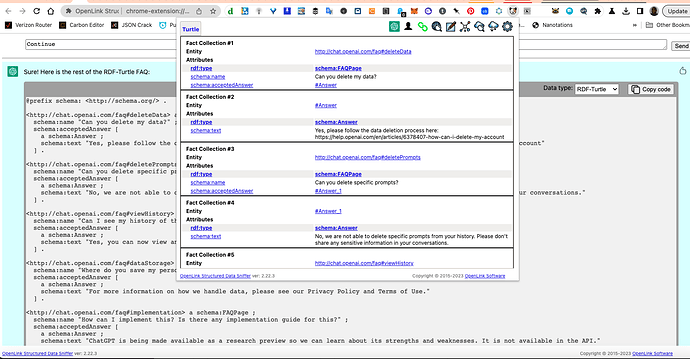 Here are some screencasts demonstrating the use of this functionality:
Availability
Previous Release Information