Hi,
I followed the instructions here to enable CORS. I set the CORS pattern to a single asterisk char. I click "Finish" and it pushes me to the "Publish Objects" tab. When I exit and visit the "Authentication" tab again, the CORS field is empty, and also, my AJAX call returns error
VM145:1 Access to XMLHttpRequest at 'localhost:8890/service/fct' from origin 'http://myopenlink.net' has been blocked by CORS policy: Cross origin requests are only supported for protocol schemes: http, data, chrome, chrome-extension, https.
Here is what I tried:
Tried this on latest VOS and Virtuoso 8.2, same on both

Tried next-ing through the "Web Service Endpoint" wizard, starting from the "Virtual Directory Information" tab and the "Authentication" tab, same both times

Tried clicking "Save Changes" button on the "Publish Objects" tab, and get the following error "SQ074: Line 1: syntax error at 'SPARQL' before 'SELECT':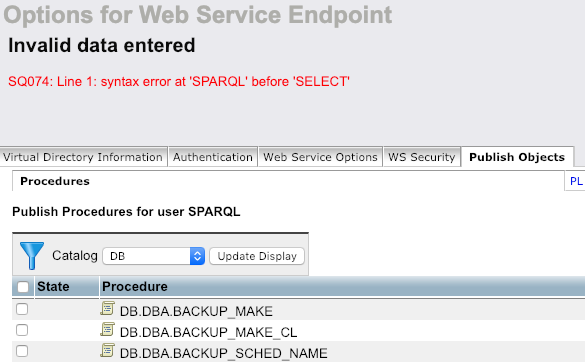 Any advice would be greatly appreciated.
-sherman